Virtual Assistants Per Hour
English speaking virtual assistants available 24/7 to help your business outsource tasks at affordable hourly rates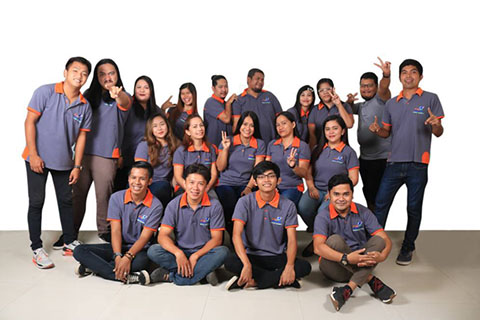 How can Virtual Assistants Per Hour help me?
Our skilled team can handle simple tasks from order processing, data entry, and social media scheduling to complex skilled assignments like website development, video production, and bookkeeping. Unlike many of our competitors, we don't "outsource your outsourcing", meaning all of our team members are vetted and work from our offices in Daet, Camarines Norte, Philippines. When you work with us, you know who you're dealing with!
Rely on our professional outsourcing services and enjoy all the benefits of offshore pricing without the hassles that come with most offshore companies. You can have the accountability and peace of mind you deserve as an employer by utilizing our services, while cutting costs and saving time.
Below are a few examples (but not all) of the services we offer our clients. If you don't see the particular service you're looking for listed, please contact us because it's most likely something we can handle.
Customer Service
Social Media Optimization
Typist
Customer Service Managers
Live Chat Operators
Call Center Agents / Phone Support Agents
Technical Support Specialists/Agents
Customer Retention Specialists
Email Handlers
Appointment Setters
Customer Service Representatives
Admin Support
Research Specialists
Microsoft Word Experts
Excel VBA Developers
VBA Experts
Data Miners
Microsoft Office Specialists
Recruiters
Real Estate Virtual Assistants
Microsoft Outlook Specialists
Administrative Assistants
Data Entry Specialists
Excel Experts
Data Processor
Virtual Assistants
Project Managers
Transcriptionists
Research Assistants
Website Dev
Software Engineers
CSS Developers
Java Developers
C# Developers
eCommerce Developers
Web Developers
C++ Developers
Node.js Developers
Magento Developers
ASP.NET Specialists
jQuery Developers
React.js Developers
Bootstrap Specialists
React Native Developers
Ruby on Rails Developers
AJAX Developers
MongoDB Developers
Full Stack Developers
Blockchain Developers
Backend Developers
PHP Developers
HTML Developers
WordPress Developers
Software Engineers
JavaScript Developers
MySQL Developers
CSS Developers
Python Developers
Java Developers
AngularJS Developers
Marketing
Marketing Experts
SEO Experts
Social Media Marketers
Link Builders
Sales Representatives
Corporate Brand Identity Specialists
Lead Generators
SEO Managers
Google AdWords Experts
Telemarketers
Email Marketers
Internet Researchers
Digital Marketers
YouTube Marketers
Music Arrangers
Social Media Managers
Sales Managers
Instagram Marketers
Pinterest Marketers
Full Stack Marketers
Content Marketers
Infographic Designers
Affiliate Marketers
Marketing Strategists
Facebook Marketers
Writing
Article Writers
Content Writers
Article Rewriters
Research Paper Writers
Technical Writers
Creative Writers
Job Description Writers
PowerPoint Experts
Business Writers
Legal Writers
Blog Writers
SEO Writers
Fiction Writers
Academic Writers
Medical Writers
Travel Writers
Grant Writers
Screenwriters
Copy Editors
Editors
Copywriters
Ghostwriters
Report Writers
Editors/Proofreaders
Resume Writers
Mobile Dev
Mobile UI Designers
SQL Programmers
Unity Developers
PhoneGap Developers
Apple Xcode Specialists
Mobile UX Designers
Mobile App Developers
Android App Developers
iPhone App Developers
iPad App Developers
Objective-C Developers
Game Developers
Swift Developers
Kotlin Developers
Accounting
Accountants
Business Analysis Specialists
Legal Consultants / Advisors
Intuit QuickBooks Specialists/ Consultants
Payroll Specialists
bookkeeper
Chief Financial Officers
Financial Reporting Analysts
Financial Analysts
Contract Law Lawyers
Human Resource Managers
Accounting Managers
Tax Preparers
Financial Managers
Financial Accountants
Xero Experts
Management Consultants
Civil Law Attorneys
Video & Animation
Animated Explainers
Animators
3D Animators
Video Editors
Videographers
Audio Mastering Specialists
Audio Editors
Voice Over Specialists
Voice Talent
Audio Production Specialists
Audio Mixers
Music Producers
Whiteboard Animators
2D Animators
Visual Effects Producers
Video Ads Producers
Live Action Explainers
Video Producers
Design
Logo Designers
Illustrators
Adobe After Effects Expert
3D Modelers
3D Designers
Banner Designers
Brochure Designers
Photo Editors
Flyer Designers
T-Shirt Designers
Adobe InDesign Experts
PSD to HTML Developers
Adobe Illustrator Experts
2D Designers
Poster Designers
Motion Graphics Designers
Graphic Designers
Web Designers
Adobe Photoshop Experts
UX Designers
UI Designers
How much do virtual assistants cost?
Our virtual assistant services range in price from $4.50/hour to $9.50/hour depending on the complexity of the tasks and the quantity of hours requested each month. Clients receive a detailed weekly timesheet showing hours worked along with tasks completed. We offer the most detailed timesheets in the industry so that you know exactly where and how your hours are allotted. Contact us for a quick and hassle-free price quote.
Who are we?
Virtual Assistants Per Hour was established in 2010 under our former name Filgenix Virtual Solutions. We are a family owned business located in Daet, Camarines Norte, Philippines that employs over 30+ local assistants, writers, and technicians. In the past decade, we've not only built a solid reputation with clients in USA, Europe, and Australia, but also with our local community as a sought after employer. Our employees are the lifeblood of our business and we treat them like the assets they are by paying competitive and livable wages, offering training and continuing education to increase their skill sets, and providing a safe, comfortable, and ergonomic work environment with hours and scheduling that respect their families and personal lives. Working with us means you'll be part of our family, and we promise to take care of your needs.
Clients ❤️ Virtual Assistants Per Hour
With so many 5 Star Reviews from satisfied clients, it's easy to see why our clients keep coming back to us for all their virtual assistant needs. Browse some of our highlights below or read all our reviews on Upwork.
⭐⭐⭐⭐⭐
"I hired Mariella and her staff to help me with my order fulfillment for my online business. They were very helpful and understood what was required of them right away. They saved me countless hours of every day!"
⭐⭐⭐⭐⭐
"I had hired several article writers and none is as good as Mariella. She writes professional with great command of the English language. I love her works that it normally doesn't require any modification at all. She is definitely the best whom I would hire for long term."
⭐⭐⭐⭐⭐
"Great work from the team in helping with my woocommerce store."
⭐⭐⭐⭐⭐
"Mariella and her team did an excellent job. Will definitely be using them again 10/10."
⭐⭐⭐⭐⭐
"I highly recommend Mariella…thanks for all your assistance."
⭐⭐⭐⭐⭐
"Very satisfied, great communication."
⭐⭐⭐⭐⭐
"Mariella has done an excellent job for us, no complaints. We are moving on to another project."
⭐⭐⭐⭐⭐
"It's a pleasure having Mariella being part of the team. She communicates clearly and very responsive to all communications. She delivers work on time and responsible for any feedback and eager to cooperate with changes and shows a high degree of flexibility. She is a great contributor of the team. She is someone I would highly recommend and would hire in future projects."
⭐⭐⭐⭐⭐
"I hired Mariella to do some very technical data entry, interpreting scientific graphs and entering the results into a series of data files. The process involved using software that Mariella had never seen before. Mariella delivered the results back to me in half of the time it should have taken her. She also impressed me with her ability to understand the scientific data. She is very dedicated to her work and the satisfaction of her customers. I would not hesitate to hire Mariella again."
⭐⭐⭐⭐⭐
"In my online business I've worked with many virtual assistants. During this time I've discovered how valuable it is to find excellent employees who produce quality work at a fast pace. In my opinion Mariella is among the best. She is very knowledgeable, and thorough. I have been very impressed with Mariella's ability to complete all tasks in a professional manner. She is dependable and always does an excellent job with whatever task I give her. For these reasons I highly recommend Mariella. She would be a valuable asset to any business."
⭐⭐⭐⭐⭐
"I've worked with Mariella several times now, and have always been impressed with the accuracy of her data entry and the speed with which she completes projects. I usually have two users doing data entry from the same source, and Mariella is consistently faster and more accurate than the other freelancers I hire."
⭐⭐⭐⭐⭐
"Mariella did a beyond outstanding job contacting media across the USA, informing them about a very important press conference – communicating both by email & phone. Many thanks!"
⭐⭐⭐⭐⭐
"I worked with Mariella for close to two years and was extremely pleased. She has wonderful communication skills, an excellent work ethic and asks intelligent questions to ensure she is delivering the best work product possible. I would certainly hire her again."
⭐⭐⭐⭐⭐
"Mariella – You did a great job with both of these initial assignments. I am very confident with both your skills and English ability. I will be contacting you in a few weeks, after the holidays, with additional work should you choose to accept. Thanks for all your assistance!"
Frequently Asked Questions
Below are some frequently asked questions about working with Virtual Assistants Per Hour. If your questions are not addressed below, feel free to contact us.
Hidden Toggle
Is it safe to work with a VA?
While we can't speak for all virtual assistants or agencies, we guarantee our work and are only in the business of having satisfied clients. We've previously worked with technology startups and international banks and are able to adhere to the strictest security standards from dedicated hardware for closed intranet access to non-disclosure agreements. We are a registered company in the Philippines and can provide the required documentation to work with your company.
What if my virtual assistant is sick, on vacation, or quits?
Each client has a dedicated team leader and technician assigned to them. We also cross-train technicians across accounts. This redundancy ensures that your work will be completed as scheduled even if your dedicated assistant is out of the office.
Am I locked into a contract?
We do not require that you commit to any length of time working together and strive to continually earn your business each day. While our
pricing
structure does offer discounts for higher quantities of hours requested, these hours are calculated on a monthly basis.
Contact Us
Do you have questions about our services? Would you like a quote?
E-mail mariella@virtualassistantsperhour.com or call +1 (561) 463-3578.